This weekend only 50% OFF.
Happy Memorial Day Weekend!
Enter Code: 'Memorial19′ at checkout to get 50%. Off ($7.50)
Buy Direct PDF Ebook – $7.50
Amazon Kindle $9.99
Amazon Paperback – $16.99
The full Book, "The 7 Day Practice Routine For Guitarists" is available now!
Book Details
90+ Pages of Chords, Scales, Arpeggios and Music Theory for Guitarists.
Printable Chord, Scale and Arpeggio Charts.
Guiliani's 120 Arpeggio Studies.
Bach's Bouree in E minor.
A comprehensive 7 Day Practice Guide for Guitarists of any Skill Level.
Printable Musical Examples in TAB & Standard Notation.
Guitar Pro Audio Files.
FREE Email Support
FREE Lifetime Updates
50% Commission Affiliate Program. I'll pay you half of every book sale you refer.
During the past 2 weeks, I've shared a lot of info on my new book for guitarists, The 7 Day Day Practice Routine for Guitarists. (90 Pages)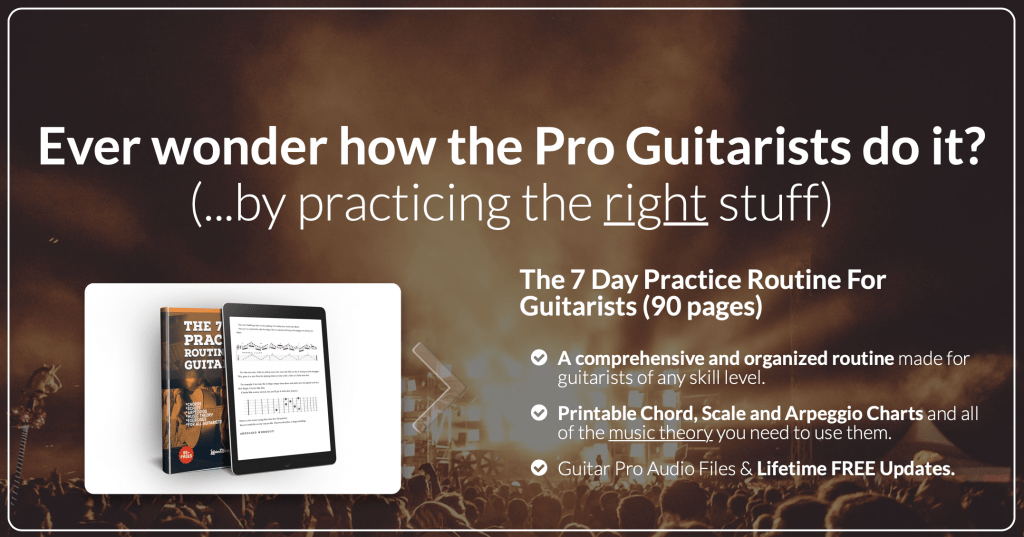 Who is The 7 Day Practice Routine for Guitarists for?
Any Guitarist looking for a detailed, structured practice routine.
Guitarists who want to know more about Music Theory.
Anyone who wants all of the important Chords, Scale & Arpeggio shapes in one place.
Any Guitarist stuck in a rut, looking for new techniques and ideas.
Guitarists who want to improve their chops, FAST.
Guitar Teachers looking for material supplements for their own students.
Who is the book NOT for?
Guitarists who are 100% happy with their technique.
Guitarists looking for a "quick fix" miracle lesson. The routine takes work and some effort.
Anyone not yet able to read some TAB.
A complete beginner picking up the guitar for the first time.
The 7 Day Practice Routine For Guitarists
90 Pages in .PDF Format, Kindle, iBooks, Mac or Windows
Frequently Asked Questions
Here's a look at the most frequently asked questions I've been getting…
1. What results will I get from this book?
You'll get a step by step process for going from where you are now to where you want to be with your playing. The routine is laid out in a straightforward daily outline that includes music examples and theory for each lesson.
3. What format is the book in?
If your order directly from the website, you'll get a high-quality, printable PDF file. I've done my best to include longer routines and music examples on their own page. Print only want you want. Music stand friendly!
Note: If you purchase direct, you'll also get free updates anytime I add or change anything in the routine.
If you order on Amazon the book works on any Kindle or device with the Amazon Kindle App. It will look and function exactly like any other book you've purchased from Amazon!
4. How long will this course take?
It depends! How much time per day will you work on it? How consistent will you be implementing everything you've learned? There are TONS of lessons for you to do, so it could take you two weeks or over two months to go through depending on your level of commitment.
For beginning Guitarists, I recommend learning some of the shapes first. After that try to focus on 1 routine before moving on to the next.
Advanced guitarists should be able to tackle 1 lesson per day as the book is laid out.
5. Is this book worth the price?
If you do the work in the routine, it's worth 1000x what you pay for it. If you don't do the work, it's not worth a penny.
6. Is my credit card safe?
It is very important to me that your credit card is safe. I have partnered with Stripe (a third party credit card company) to handle all the billing and provide a secure encryption. This is as safe, if not safer, than using your credit card at a store or restaurant.
You can also use your Paypal account! Paypal has been the industry standard for sending and receiving secure payments for 20 years. Just choose Paypal at checkout.
Affiliate Program
As a show of thanks to all of my readers and supporters, I'm offering a generous 50% commission on all book sale referrals.
Signup to get your Affiliate Link here through Sendowl.
Craig Smith is a professional Guitarist, Teacher, and Writer living in Sanford, Florida. Craig has taught guitar lessons, performed 200+ gigs per year for nearly 30 years, and published 4 guitar instructional books. When he's not gigging or writing, you may find him by the pool with his wife Celeste, 4 Chihuahuas, and a drink. 🎸