In the age of Youtube videos and Learning Apps on our devices, the online community has created a sort of overload of information (and misinformation) when it comes to learning just about anything.
Nowhere is this more prevalent than in online Guitar Lessons, Apps, Tabs (that are almost always wrong) and the over-population of so-called 'experts' seemingly everywhere online.
Enough already! Below is an excellent list of BOOKS, yes I said books, that I guarantee will improve your playing and musicianship regardless of your current skill level.
This list is a classic, tried and true, proven, infallible, comprehensive.. well you get what I'm saying… list of material by real educators and famous guitarists worth listening too. 
Related Posts:
I've used (and still use) all of these books myself and have included the Amazon rating for each. Literally, thousands of people agree with me, these are great books!
I'd love to hear your thoughts including any suggestions you think I should include in an amended article. Please drop me a comment below.
5 Books Every Guitarist Should Own
Yes, they still use this classic book as part of the Guitar Curriculum at the Berklee School of Music in Boston. It is definitely a case of 'if it's not broke, don't fix it'.
I started using this book when I was about 19 and have used it with my own students for the better part of 25 years.
Everything is well laid out in such a way as to enable the student to progress fast. Your sight-reading will explode, and the alternate picking and chord exercises will catapult your technique quickly and efficiently. 
"Berkeley Book 1 is a great 'all-around' book that will benefit Guitarists of any style."

There's just nothing more relaxing to me in this world then chilling out with my nylon string and working through the gorgeous solo guitar music in this book. (Actually, you get 3 books in 1).
The lessons start out short, easy and concise, with an excellent accompanying instructional text in English and Spanish. 
By lesson 40 in Book 1 (Book 1 has 85 lessons) you'll start playing some really beautiful solo guitar music. 
By the end of book 1, the pieces are suitable for a recital, wedding or any other Classical Guitar solo performance situation you could think of.
The newer edition with the first 3 volumes and spiral binding is a must have for every guitarist … it never leaves my music stand!
While this book is technically considered a 'Classical Guitar' method book, I'd highly recommend it regardless of your playing style. 


Even if you're a die-hard Metal or Country guy/gal I'd be amazed if you didn't fall in love with at least some of these beautiful pieces.
 
"With 3 included volumes and the spiral binding, Sagreras 1-3 is the best value of the bunch."
This one is a slightly modern take on the older Berklee series but with some notable additions that make it worth a separate purchase.
I like how it starts guitarists reading in different positions immediately and also covers how to read charts. The chart reading info alone makes it worth the purchase. 
If you're a pro who needs to brush up on charts for a gig or even a complete beginner, you'll benefit from this one.


Also worth noting is that this book is part of the curriculum at the Musician's Institute in Hollywood, California (aka G.I.T.)
"If you are not interested in Classical Guitar but want to read music and charts better, this is the book for you."
Guitarists Book Bundle
My best-selling 2018 Practice guide book. Tons of great exercises, music theory, chords, scales, and arpeggios organized into a comprehensive 7 day practice routine. Thousands sold, never a bad review!
How do chords work? How are they created? How do they work together? These questions answered and more. Includes beginner to complex chords, formulas, shapes, and how to find all of the notes on the guitar neck.
What started as a simple hand-out to my guitar students exploded into a 45 page book. Introduction to modal scales, theory, the circle of keys, and a very simple way to approach modes and get them under your fingers. Also includes both of my popular modal scale workouts from 2018 and 2020.
If you have even a passing interest in finger-picking or Classical Guitar Music, you'll love this book. An epic introduction to classical guitar music, history, composers, art, and… 25 beautiful pieces and accompanying lessons.
Also includes Guiliani's 120 Right-Hand Studies, Classical Guitar Primer, and a Daily Practice Routine.
All Audio and Guitar Pro Files Included.
High-quality, full-color PDFs, work on ANY device.
All books include TAB and Standard Notation.
Lifetime FREE replacement if lost.
Scott Tennant is one of the premier Concert Classical Guitarists in the world today. His book 'Pumping Nylon' is an essential tool for technique learning and maintenance regardless of your current skill level.
Everything is laid out in easy to digest bite-sized chunks of material. Scott includes sections on practicing, nail care, reading, scales, Flamenco techniques, left hand, right hand and the complete Giuliani 120 Arpeggio Studies.
This book has done a tremendous job of improving my technique and left hand dexterity even when applied to styles outside of the Classical Guitar realm.
The new edition, lowered price, spiral binding and included audio lessons make this one a no-brainer. It's only $13 bucks! 
Do not buy if:
You're not at all interested in Classical Guitar (fingerstyle) techniques.
You're not at all interested in incredible left hand development.

Also a slightly more advanced book, Al DiMeola covers a wealth of material geared more toward a Jazz or Fusion audience in this generous volume.
If you're not familiar with Al's incredible music,,, (you should be!), all of his amazing picking techniques, chord voicings and improvisation utilizing chords, scales and arpeggios are taught within.
"Al's book is great for a Rock Guitarist looking to expand their chord vocabulary. The chord section alone is worth the low price on this classic, so go get it!" 
Your chops will thank you.
Hey, Did you know I wrote a book too? It's getting great reviews and is available now for Mac, Windows, Kindle, iBooks, iOS and Android PDF formats.
UPDATE: The Full Book is Done! Read The Reviews Here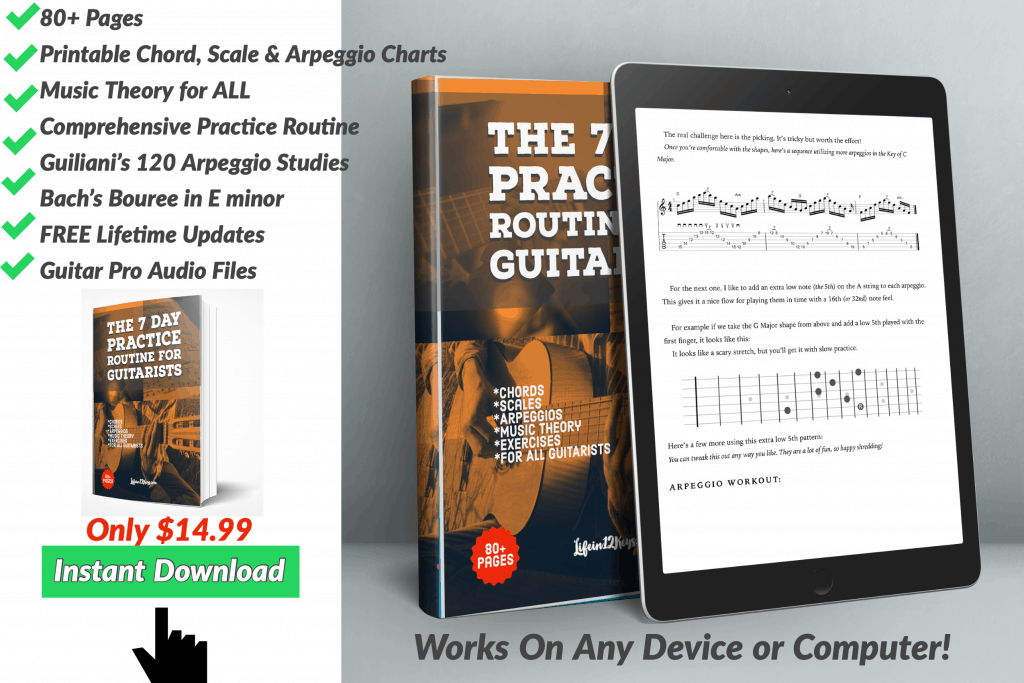 Honorable Mentions:


If you're really, really into chord theory or wanted to know everything there is to know about chords, then this is the book for you. 
"It reads like a Space Shuttle cockpit manual, but I'd be lying if I didn't say I got ALOT out of it. ..and its cheap".
To say there are a lot of chords in this book is a gross understatement. Ted Greene covers every imaginable fingering and voicing you could possibly dream of, and the theory behind all of it.
There are no exercises or music in this book. It's just chord shapes and theory. 
If you're a complete beginner, I highly recommend Alfred's Book 1.
This book will teach you the very basics of the guitar including reading music, note values, chords and picking integrated into very simple songs and melodies. 
If you've never picked up a guitar or read a note of music I'd start here before tackling one of the above books.
Alfred's Basic Guitar Method Book 1 is also great for kids! If you're an adult beginner you could probably get through it in a month or so before moving on to the Berklee Books or Sagrera's method.
If you're a beginner to intermediate Guitarist you could even use this book to teach your own kids, provided that you stay one chapter ahead. It's THAT easy.
If you are an experienced Guitarist that has never read music before, it's certainly worth the low price ($6.99!?) to just have a copy around.
Regardless of age or skill level, after Book 1 I'd recommend moving immediately to the Berklee books or more advanced material. 
The first book in the Alfred's series is perfect for what it is, however, the rest of the method books would not be the best way to advance on the guitar in my opinion.
Please feel free to leave a comment below and let me know your experiences with these books and/or any questions you may have.
Craig Smith is a professional Guitarist, Teacher, and Writer living in Sanford, Florida. Craig has taught guitar lessons, performed 200+ gigs per year for nearly 30 years, and published 4 guitar instructional books. When he's not gigging or writing, you may find him by the pool with his wife Celeste, 4 Chihuahuas, and a drink. 🎸