Today April 30th is the last day of Sale!
You asked for it… you got it.. 33% until May 1st.
Enter code "Easter19" to get The 7 Day Practice Routine For Guitarists for only $9.99!
What you get…
Over 90 Pages of Chords, Scales, Arpeggios and Music Theory for Guitarists.
Printable Chord, Scale and Arpeggio Charts.
A comprehensive 7 Day Practice Guide for Guitarists of any Skill Level.
Printable Musical Examples in TAB & Standard Notation.
Guitar Pro Files – Editable SOUND – MIDI – TAB – MUSIC Files.
All Diatonic Modal Scales
Melodic and Harmonic Minor Modes
Pentatonic and Major, Minor and Blues Shapes
Diatonic Arpeggios
Printable Circle of Keys
FREE Lifetime Updates
FREE Email support
BONUS – Guiliani's 120 Arpeggio Studies!
BONUS – Bach's Bouree in E minor.
Get the 90 Page PDF eBook Here. Enter Code Easter19 for 33% Off ($9.99)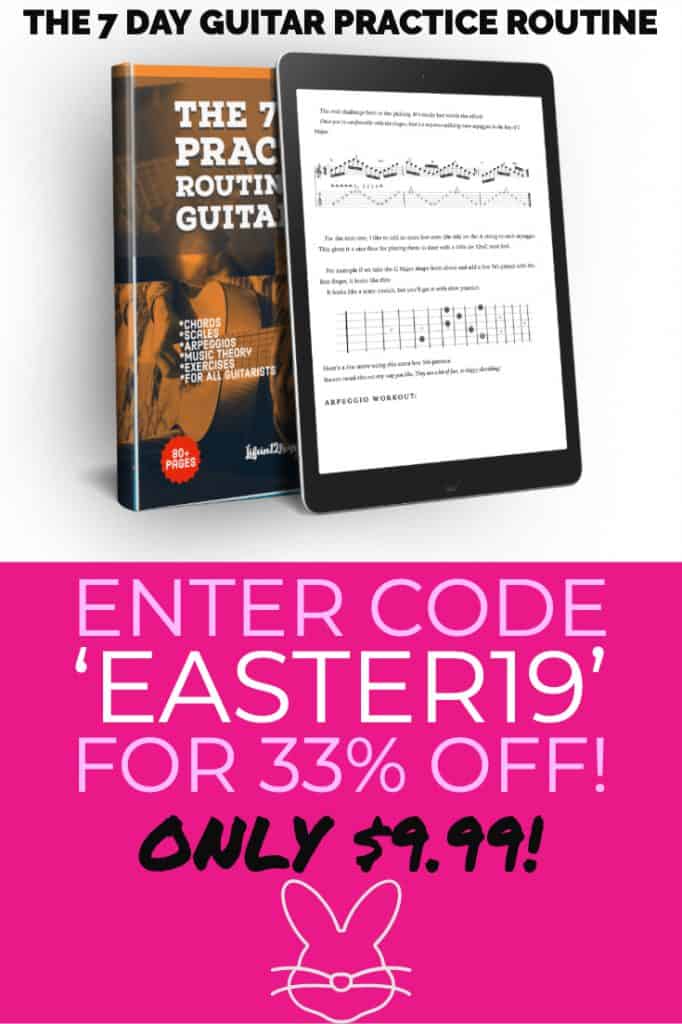 Don't like ebooks? Want the physical full size paperback for your music stand?
Now available on Amazon in paperback format!
Click HERE for Paperback ($16.99) with Free Amazon Prime Shipping.
As always, if you're having any trouble, please just hit reply and let me know.
Sincerely,
Craig – Author of The 7 Day Practice Routine For Guitarists
Craig Smith is a professional Guitarist, Teacher, and Writer living in Sanford, Florida. Craig has taught guitar lessons, performed 200+ gigs per year for nearly 30 years, and published 4 guitar instructional books. When he's not gigging or writing, you may find him by the pool with his wife Celeste, 4 Chihuahuas, and a drink. 🎸