As a new blogger you may find yourself feeling isolated or alone in your online journey. Depending on your niche, it may be something you don't necessarily feel comfortable sharing with friends or family.
As a working Musician, I feel good sharing my local and Guitar related posts on my personal Social media pages.. but everything else? Not so much. Sometimes you just don't want to mix the two worlds, right?
Facebook Groups
Facebook groups, particularly for new Bloggers, are an invaluable resource for promoting and networking. Sure, maybe your co-workers and friends don't "get it", but rest assured, if you find the right Facebook group, you will find a wealth of information and support from other people just like you.
That happened for me recently when I joined A Self Guru – Biz Blog Community. I had joined a few other Blogging groups, but just didn't feel a good community vibe or group camaraderie like I did with the people in A Self Guru's community.
Amira Law
The Founder of A Self Guru
A Self Guru – Biz Blog Community is run by South Florida Lawyer Amira. From the very first day as a new member, Amira along with the other helpful members and admin Michelle Sillery made me feel right at home.
Her website ASelfGuru.com has also been a wealth of information for me and other new bloggers. I wrote a bit about her in my article: Blogging – The First 30 Days.
I immediately felt that Amira genuinely wanted to help me. She answered all of my noob questions, and is always friendly to me and every other member of the group. She also manages to do it without being overly self-promotional unlike the other groups I'm part of.
Having just launched this blog August 21st, I kind of expected to be lumped in with all of the other new bloggers in the group. Promote this, share that, reciprocate….. you may know the routine by now. Pretty standard stuff in all Facebook groups.
Amira's group was different.. SHE was different. I decided to take a chance and ask her for a guest post. One of my niches here at Lifein12keys is Blogging topics and tutorials. Who better to help with the important steps of setting up legal pages for Bloggers than my new friend and Attorney, Amira?
I was a little surprised when she accepted my invitation.. although having gotten to know her a little, I shouldn't be. She's always just so helpful to everyone… including yours truly. 🙂
Q & A with Amira Law
Craig:
Hi Amira! Thanks for doing this. I'm coming up on my 2 month "live" anniversary date with my blog now. I can't tell you enough how much I appreciate your daily help and advice in the group. I know others do too.
Amira:
"You are very welcome, Craig. It's great to connect with another Floridian 🙂 We love having you as part of our group and you are such a delight to work with – always so positive and helpful towards other members in the group as well. So thank you!"
Craig:
 Aw, Thank you! Aside from the obvious promotion of your comprehensive Legal Bundle, what prompted you to take the responsibility of starting your own Facebook group?
Amira:

"I got into blogging without any experience whatsoever. The first thing I did was join some blogging groups on Facebook to get a flavor of what it entailed and to make new blogging friends.
But within few weeks of being part of 15+ Facebook groups, I got turned off by many because of the stringent rules such as "remove preview" which annoyed me the most because I work full-time as a lawyer and conduct most of my business including social media engagement from my phone! I can't remove preview from my phone. Those of you who also use your phone to post links know what I'm talking about!"
Craig:
Oh I know! It's ridiculous. I actually got booted from a group recently because I forgot to reply "done", even though I went above and beyond following the rules. It's a little silly.
Amira:

"Oh, I know! Similarly other rules like "you must do this, follow all, comment done, etc" or simply a laundry list of rules to remember was a huge turn off. Don't get me wrong, as a lawyer, I'm a stickler for rules but don't make me follow so many rules in my personal life too!
Blogging is an escape for me from my daily hectic lawyer routine but if I have to be stressed about abiding with all these rules then what's the point of joining these Facebook groups? Where's the sense of community and support then?
All of this prompted me to create my own Facebook group. I'm so happy I did because the results have been amazing! I'm also fortunate to have Michelle Sillery onboard as an admin who shares my vision and helps manage the group tremendously. Within just two months, our group has grown to almost 300 awesome members! Every day it continues to grow, and I can't wait to see the future progress."
Craig:
Yes, Michelle is so nice too. Your group is by far my favorite and everyone is so friendly. What are some of your goals with the group?
Amira:

"I wanted an open forum where I could easily teach bloggers and entrepreneurs how to
protect their online business legally
. As soon as I got into blogging, the first thing I noticed was the need for legal help. Bloggers are constantly struggling or intimidated with the legal aspect of their businesses
(rightfully so!)
.
My goal is to fill that deficiency and help as many bloggers and entrepreneurs as I can with my Legal Bundle! Plus, I'll be creating more legal products and conducting trainings for business owners in the future, so it's great to have a community where I can easily share things and help everyone."
Craig:
So, we know you're a practicing Attorney in South Florida, what are some of your other interests and hobbies?
Amira:
"Too many to list! At the moment, blogging and full-time lawyer job have consumed me. But my hobbies and interests include yoga and meditation
(to keep me sane!)
, reading and writing
(no surprise there!)
, modeling
(when I have the time!)
, going to the gym, teaching and coaching. I've been teaching all my life and still train other lawyers and business owners in my spare time.
I'm also into astrology, which is quite interesting and fascinating to me, sleeping (I need lots of beauty sleep but don't get much sleep these days!) and traveling (wish I could travel more!)."
Craig:
You and your husband recently went on a trip for your Anniversary to the Dominican Republic. Mind sharing some highlights?
Amira:
"You would have to
read my guest post here
to see the highlights of that trip 🙂 It was a double celebration because my birthday and wedding anniversary falls on the same day in August. The trip was quite memorable and the resort we stayed at was truly exceptional.
I fell in love with the people, country, culture, food, etc. Everything was magical! For the full story, you will have to read the guest post I wrote."
Craig:
Oh, I read that article. Cool! I see you are licensed to practice law in New Jersey and Florida. Are you a Jersey Girl?
Amira:
"No, Florida girl all the way! When it was time to go to law school, I wanted a change so bad because I was fed up with Florida's hot humid weather. So I ended up going to Connecticut for law school because it was very pretty up there, especially the fall season.
After law school, we moved to New Jersey for some time but eventually, the "snow" brought me back to Florida with a lot of appreciation! Now I think about snow when I'm about to complain about the heat and humidity here.
Sometimes you have to experience the worst to appreciate the best you already had!"
Craig:
Are you kidding! I totally get it. My wife and I moved here from Ohio.
What's your favorite part about Blogging?
Amira:
"My absolute favorite part has been receiving the awesome testimonials and feedback on my
Legal Bundle
. When I first received an email with a detailed long testimonial on my Legal Bundle, I wanted to frame it lol.
It was like winning an award or something. That feeling of immense joy cannot be translated into words. Nothing beats receiving awesome feedback on your product and seeing what a huge positive impact it made on someone.
By the way, everyone is welcome to join my free affiliate program and make up to $60 per sale. I know monetizing your blog is not easy, so I want to help in any way I can through my affiliate program."
Craig:
Wow, that's great! What is the #1 thing a new blogger needs to do before going 'live'?
Amira:
"The #1 thing you NEED is
legal pages on your website
! I can't emphasize this enough because trust me, you will risk losing your business along with your sanity for not following the law.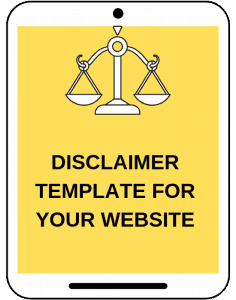 You need three important legal pages (and no, not those free templates out there), actual professionally drafted legal pages that make sense and are tailored to your business!
The three legal pages you need are a Privacy Policy, Disclaimer and Terms and Conditions. If you are using affiliate links on your website then you definitely need the appropriate Disclosures as well. My Legal Bundle already includes all these because as a blogger myself, I know what needs to be included on your website to protect yourself legally."
Craig:
Why is it so important for us Bloggers to protect ourselves like this?
Amira:
"I get asked this question all the time and my short and sweet response is always the same – to avoid getting sued! …but there are several reasons why it's so important for bloggers to protect themselves legally, such as complying with the law, protecting user privacy, complying with third parties, disclosing your affiliate relationships, establishing your website rules, etc.
I've written few blog posts on this topic already that will further provide insight into these to guide you because I know the legal side of blogging is not easy or clear to everyone. So feel free to check out these posts on my blog to learn more about how to protect your blog legally and to ensure your compliance with the law.
Unfortunately, these days it's so easy to get sued and if you don't want to deal with long expensive lawsuits then make sure to have proper legal pages on your website before you launch your business!
When lawyers file lawsuits, we don't go after the defendant for just one cause, instead we find multiple grounds to sue upon. That's just how the legal profession works and how lawyers make money. Not only do you risk facing expensive lawsuits, but you could also be liable for huge legal costs.
These costs include attorney costs of the prevailing party. In another words, just to save few bucks in the beginning, you risk paying thousands in the end once you are in litigation.
I have a successful entrepreneur friend who is being used for all kinds of things he published on his website, including not having a proper Privacy Policy. Now he's paying in thousands in legal fees to fix his mistakes.
With any business, you have to lay a proper foundation first, and think of legal pages as that strong foundation you need! There's just no way around it!"
Legal Pages for Bloggers
I could tell you about why it is so important to make sure all of your legal pages and disclaimers are setup properly… but I'd rather let my new friend and licensed Attorney Amira do it for me:
Amira:
Let's start with the first legal page you need on your website: Privacy Policy. You need this on your blog before you launch because it is required by the law. We don't make the rules but we must follow them. There are a lot of important things a Privacy Policy should cover and you wouldn't know everything unless you were a lawyer.
The second legal page you need on your website is a proper Disclaimer. A disclaimer helps prevent lawsuits in the first place and if you do get sued, it still helps shift legal liability to the other person. In other words, it serves to protect you either way. But you need a disclaimer tailored to your blogging niche and it needs to include a lot of important legal provisions to fully protect you.
The third legal page you need is Terms and Conditions. They serve many purposes such as defining your website rules for your visitors, governing law for legal disputes, legal policies regarding your products and services, protecting your intellectual property rights and much more!
Every day, I'm asked to review someone's legal pages and right away, I can highlight all the deficiencies showing what is missing in them. After reviewing and drafting hundreds (if not more!) of these legal policies, it becomes second nature to go through them rather quickly. It's safe to say, I can write them in my sleep.
So if you want the complete piece of mind knowing your legal pages are drafted by a lawyer then check out my Legal Bundle. It includes everything you need to legally protect your website at a huge discount!
Craig:
Any other advice that you'd like to share with my readers?
Amira:
"Yes, we work day and night (I don't know about you but I've lost my sleep ever since I became an entrepreneur) to build and create a successful business for ourselves. Something we are proud of and one that serves a greater purpose of serving others.
Just imagine if all that was taken away from you in a snap? For years, I've been seeing business owners falling hard and paying a huge price for their legal mistakes.
Tomorrow if you are sued for non-compliance or if someone decides to sue you for violating their rights, you will regret not having legal pages on your website from day one! Moreover, you will regret not having PROPER lawyer drafted legal pages on your website and at that time, this negligence on your part will be considered a legal mistake, which will cost you thousands of dollars to repair it.
It's less important to me that you purchase my Legal Bundle specifically but more important that you do take the necessary steps to legally protect your business. It's not a legal defense to be ignorant or oblivious to this. So educate yourself and just like you made the decision to start blogging, same way, make the next important decision to protect yourself legally!"
Legal Disclaimer: Although I am a lawyer by profession, I am not YOUR lawyer. This article is for informational and educational purposes only, does not constitute legal advice and does not establish any kind of attorney-client relationship with me. I am not liable or responsible for any damages resulting from or related to your use of this information.
About the Author:
Amira is a lawyer, blogger and business coach from Florida. She blogs at ASelfGuru.com where she teaches you how to protect your online business legally along with the business skills you need to become your own boss!
You can connect with her on:
 Facebook| Instagram| Pinterest| Twitter
Sign up for her FREE legal tips for your business here.
Join her FREE affiliate program here.
---
Craig Smith is a professional Guitarist, Teacher, and Writer living in Sanford, Florida. Craig has taught guitar lessons, performed 200+ gigs per year for nearly 30 years, and published 4 guitar instructional books. When he's not gigging or writing, you may find him by the pool with his wife Celeste, 4 Chihuahuas, and a drink. 🎸