I love Gyros but, let me start by saying… this was not the article I planned to write today. Furthermore, this isn't really a cooking and recipe website. I do love to cook, and of course I love to eat gyros even more, however, cooking is far from what I would consider my niche.
That being said, it probably won't be my last recipe article. I genuinely enjoy writing about food and cooking. I'm not great at it, but I do have a few choice dishes I make that I believe are worth sharing. This authentic gyro meat recipe is definitely worth sharing!
(I've updated this recipe in 2020 with a proper recipe card and some notes to make things easier.)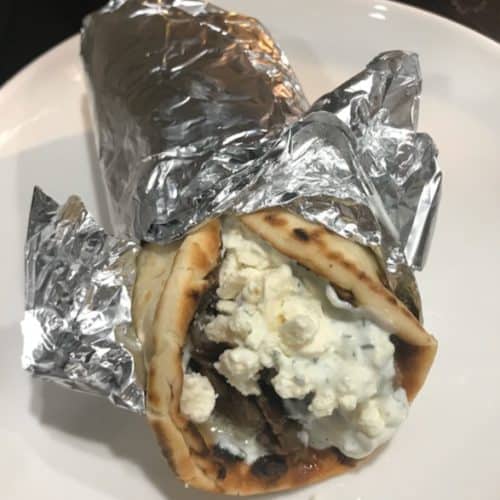 Paco's Authentic Gyro Meat Recipe
I never thought it was possible to make authentic, restaurant style Gyro Meat at home. I was wrong. This Gyro recipe rocks!
Equipment
Food Processor

Meat Thermometer
Ingredients
2

lbs.

Ground Lamb

4

Slices

Salt Pork

Diced

2

tsp

Sea Salt

Per lb. of Lamb

½

tsp

Majorum

1

Clove

Garlic

Chopped

2

Large

Pita or Naan Bread

2

Cups

Feta Cheese

1

tbsp

Olive Oil

Extra Virgin

½

Cup

Tzatziki

(recipe below)

1

Onion

White or Red
Instructions
Mix above ingredients thoroughly by hand.

Cover and put in the fridge a minimum of 3 hours (ideally 24).

Pre-heat Oven to 300 degrees

Bake for 300° degrees on the middle shelf for 25-30 minutes, or until the internal temperature is 140 degrees.

Cool meat in fridge for about 30 minutes.

Slice meat thin and broil until desired crispyness.

Brush pitas or Naan with olive oil and broil for 1 minute.

Add feta, onion, and Tzatziki and serve.
Related Article: My Taco Story & Gringo Street Tacos Recipe
Prologue
This recipe however, is not mine. It belongs to my buddy Dave (nicknamed "Paco" when we were youngsters).
 He's been texting me for the better part of the last month about hows he's been trying to nail down authentic Gyro Meat like they have in the good Greek restaurants.
You know, the giant slab of crispy hot meat spinning on a giant rotisserie under a heat lamp? I mean.. it just didn't seem possible. Wow, was I ever wrong.
Dave is one those guys who will put his mind to something and just figure it out. I mean everything.
A few years back he emailed me about wanting to build traditional handmade Classical Guitars. I was thinking, yeah right. A few years later I'm playing one of his guitars every day. He's THAT guy.
He's just good at anything he sets his mind to.
(You can see some of his handmade Guitars, including mine here)
So when Dave asked me to come over today and try his homemade Gyros I was there with bells on and 7 minutes early.

Paco's Gyro Recipe
Ingredients for meat mixture:
2 lbs. Ground Lamb
Salt pork – 4 thick slices diced.
Kosher Salt – For every lb. of meat use 2 teaspoons or divide in half for regular table salt.
Ground black pepper to taste
1/2 teaspoon Majorum (sort of a Middle-Eastern Oregano)
1 clove garlic chopped
Mix above ingredients thoroughly by hand.
Cover and put in the fridge a minimum of 3 hours (ideally 24).
Pre-heat Oven to 300 degrees
Purée the Meat Mixture
To get that dense Gyro meat texture it's important to keep the meat cool during the purée process. Paco did his in two batches. He would purée some meat, then stick it back in the fridge while doing another batch. Use a good food processor for the puree step.
Once the meat is puréed, flatten it out into a 1 inch tall, kind of flat meatloaf in a shallow loaf pan or whatever you have in your kitchen.
Bake 300 degrees on the middle shelf 25-35 minutes or until the internal temperature is about 140 degrees.
A good meat thermometer is handy for this.
While thats cooking, mix up some Tzatziki!
Cucumber Sauce (Tzatziki)
Chop 1/2 clove of garlic (or to taste)
Thinly sliced cucumber to taste.
Fresh Dill finely chopped
Lemon juice, one good squeeze to taste.
About 1-2 cups Plain whole milk Greek yogurt. (He used Cabot) depending on how many Gyros you're making.
Mix up yogurt mixture with a spoon then salt to taste.
Chill in fridge until ready to serve.
The Gyro Meat
Once the Gyro meat is at about 140, pull it and stick it right into the freezer for about 30 minutes.
Quickly cooling the meat down like this enables you to get the thin authentic Gyro meat slices without it falling apart or crumbling.
Set Oven to Broil
Remove from freezer.
Slice the meat thin. Paco uses a sharp cleaver, but a decent electric knife would work great too.
Fan the slices out so not all of the slice surface is exposed.
Broil on a cookie sheet on the top rack about 5 minutes.
Keep an eye on it. You want it a little crispy around the edges, but not dried out.
When it looks good, pull it and put your pita bread in to broil for just a few minutes.
Serving:
-Take a 12"x12" square of tin foil and lay flat on a plate.
-Lay the pita on the foil and stack a generous helping of the meat in the middle, but to the edge of the bread on either side.
-Add your chosen toppings
Red Onion
Feta Cheese (I like Atheno's, Boar's Head or Vigo)
Optional Lettuce & tomato
Roll the Gyro up in the foil and peel back one side. (The side that goes in your mouth!)
Thats it!
Epilogue
The flip side of this story is we had a bit of a communication problem. Admittedly, it was entirely my fault.
I was half asleep when I texted him this morning. I thought he said be at his place at 12:30 and we'll eat. Sounds like a reasonable time to chow down on some lunch right?
Uh, no. He meant be there at 12:30 and he'll start the whole process. (That way I could take notes for the recipe). Documenting the recipe and making notes of all the steps and ingredients was my idea after all. 
Dave isn't the type that can be bothered with typing up recipes and the like. My idea was, if this is as good as he says, than it is Blog-worthy. (It was, and it is!)
"The only place I ever seen anyone use red onion is f***ing Arby's"Paco
So at 12:30 I'm absolutely starving because I didn't eat breakfast.
I'm thinking, why eat breakfast, I'm going to get a belly full of delicious Gyros at 12:30 right?
Wrong again. After watching and taking notes and pictures, cooking and fooling around on the computer a bit.. we ended up eating around 3:15. 
I was getting lightheaded.. my blood sugar was dropping.. I was starting to lose consciousness…I wasn't sure I'd make it. But… it gets worse.
He gave me only one Gyro. Just one.
Now I'm a biggish guy at 6'1, 195 .lbs, so I can EAT. When I order Gyros in a restaurant, I'll get two. Every. Single. Time.
I know he's going to bust my balls endlessly after reading this, but imagine such a let down. The Gyro was SO GOOD.
If it wasn't good, I wouldn't have wanted another one.
Imagine for a moment having the best slice of pizza you've ever had and not being able to have another. Not even 1 more. How about the most divine taco you've ever shoved into your mouth and not being able to have a 2nd … or a 3rd?
How about Spaghetti and Meatballs at your Grandma's house and she only gives you one meatball?
Ok rant over. They (it) was delicious and among the best Gyros (I mean 1 Gyro) I've ever had. 
I'm going to make them next week sometime so I can have like three. Yes 3!
The recipe was fairly simple and assuming my food processor (which I haven't used in years) still works, I should be good to go.
When I do this, and if mine turn out as good as his, I'll update this article accordingly.
Enjoy!
Craig Smith is a professional Guitarist, Teacher, and Writer living in Sanford, Florida. Craig has taught guitar lessons, performed 200+ gigs per year for nearly 30 years, and published 4 guitar instructional books. When he's not gigging or writing, you may find him by the pool with his wife Celeste, 4 Chihuahuas, and a drink. 🎸