Fernando Sor 1778-1839
"The Beethoven of the Guitar", José Fernando Macario Sors was born February 14th, 1778 in Barcelona, Spain.
Sor was widely considered the best guitarist in his time by his peers and the general public. He composed for the guitar, ballet, opera, string quartet, orchestra, piano, and voice.
Sor came from a family of military men and intended to follow in the footsteps of his father and grandfathers before him. After his father introduced him to the Italian Opera, he fell in love with music and temporarily abandoned his ambition of becoming a soldier.
The head of the Barcelona Cathedral took notice of the local guitar prodigy, enrolling young Fernando in the music program at age 12. It was in the cathedral where Sor, thriving in his music studies, would spend some of the best years of his life. This time was recounted fondly in his own writings during his final years.
Sometime around the age of 20, his mother convinced him to return to military school where he spent 4 years in service, writing music in his spare time. He also wrote many protest songs opposing the invasion of Napoleon Bonaparte in 1808. By 1813, Sor, along with other liberal opposers of the French Revolution, fled to Paris. He would never return to Spain for the remainder of his life.
The move to Paris would prove fruitful for the young Maestro. Sor gained a sizable amount of fame in France, London, and Moscow. He eventually returned to Paris where he spent his remaining years composing, working on his method books, and guitar studies.
After the tragic loss of his daughter in 1837, an already declining Sor succumbed to throat and tongue cancer. He died in 1839 and was buried in Montmartre Cemetery—Paris, France.
Fernando Sor in his lifetime composed hundreds of important pieces which are still widely played throughout the classical guitar community. His name is almost synonymous with Spanish classical guitar music.
Sor played the guitars made by renowned French luthier, Pierre René Lacôte.
Perhaps his most famous work was the 'Introduction and Variations on a Theme by Mozart, Op. 9' from Mozart's 1791 'The Magic Flute'. This work has been recorded by classical guitarists the world over for nearly a century.
In 1830, Sor's 'Method for the Guitar' was published to great acclaim and is still in circulation today 190 years later! The great Andrés Segovia published his own Sor editions; '20 Studies for Guitar', released in 1945. This book would go on to sell copies in the millions and remains in publication today.
The Segovia book was the first classical guitar book I purchased for myself in the early 1990s. I was immediately struck with the beauty and complexity of Sor's music. This was classical music, but it was written on and for the guitar!
I present some of my own fingerings in some of Sor's studies throughout my book (graphic below) with a few changes. First off, Sor rarely used the ring finger (a) on the right hand. By today's standards of technique, I think it's fair that we alter these to modernize the repertoire. As with all of the fingerings, feel free to change them to suit your own playing and always enjoy the journey.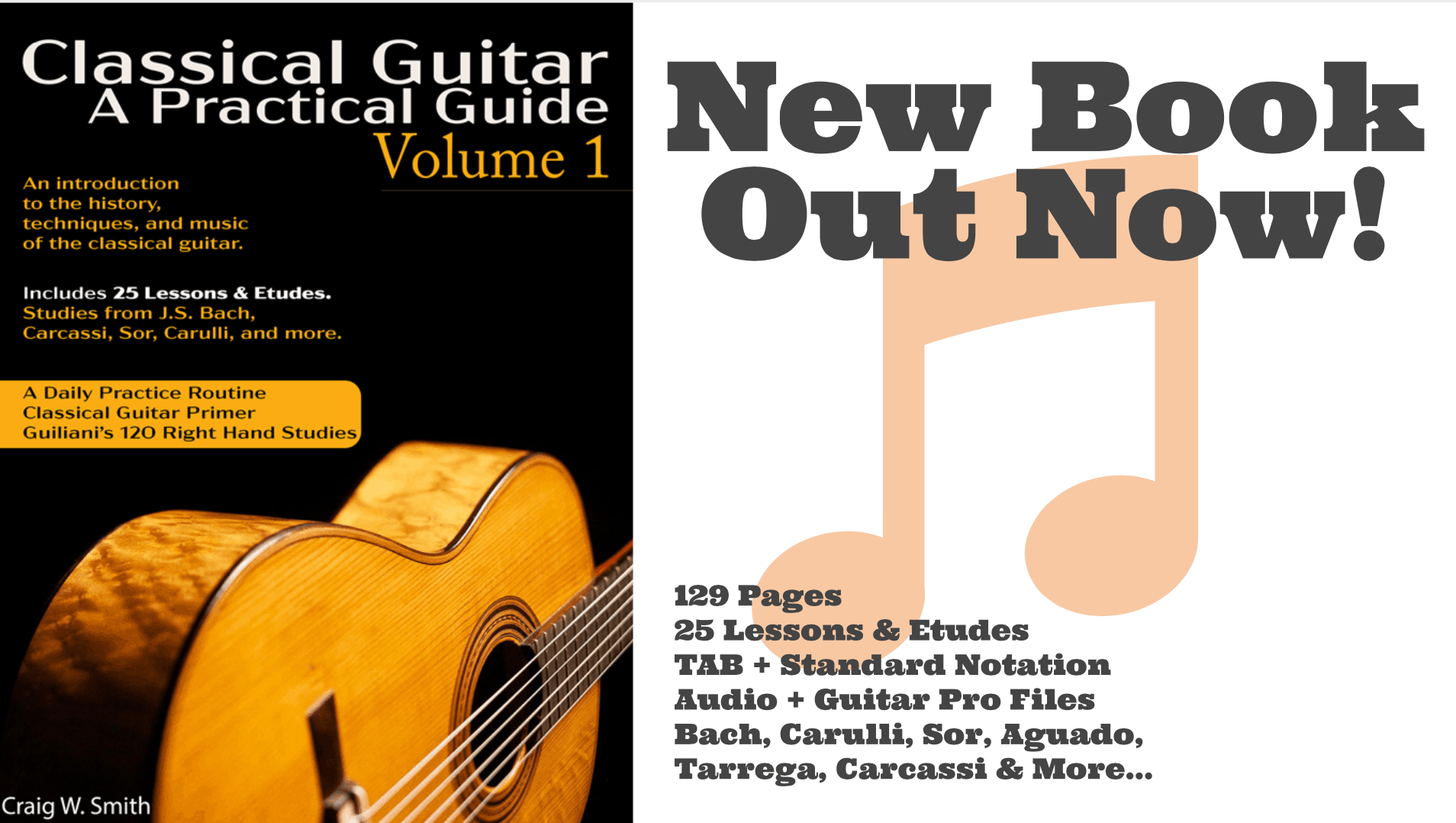 "I establish nothing by authority nor by caprice; and I merely indicate the route which I have followed in order to produce results from the guitar which have obtained for me the approbation of people the most difficult to satisfy and to dazzle in regard to music."Fernando Sor - 1843
In 1843, Fernando Sor wrote his famous method book; 'Sor's  Method for Spanish Guitar'. I've included the full 91 page PDF book for FREE in the guitar printable area. Hop on the email list to get in. Unsubscribe anytime.
Sor Study in B minor Lesson
Fernando Sor's study in B minor has lived on as a true standard in the classical guitar repertoire. This piece has been recorded countless times by Segovia and Julian Bream among others. Originally released as Opus 35, No. 22, Segovia himself included it in his famous 20 Studies for Guitar book as Etude # 5.
I've also included it in my new book; Classical Guitar – A Practical Guide as Etude #20. My version includes some new fingerings, and a full TAB and Standard Notation edition.
Some of the obstacles in this etude are the chords that change throughout the piece. Let's take a look at the bulk of them below:
Barre chords! These can be tough to switch between. With time and practice, the left hand becomes strong and the movements become easier. Take the chord transitions slow. Make each left hand movement deliberate and precise. With time it will come!
Practice Tips
For me, the hardest part is the single string note line that involves the 1st (or 2nd) finger shift from the last note in bar into bar 8.
The shift itself is easy enough, it's the descending arpeggio that follows. The arpeggio requires a barre chord. If you choose to use your first (1) finger like me, you'll need to quickly lift it and then replace it to fulfill the barre in measure 8.
Segovia has transcribed this same piece in 1945 using the 2nd finger on the F note in bar 7. The idea being; why lift the first finger when you can simply switch fingers? I personally find that more difficult, but you should try it both ways.
This same problem pops up again in bars 39 – 40.
Here's the complete score down below. Remember to jump on the email list to get this full lesson:
Sor's original 1843 method book (91 pages)
The complete score of the study in b minor PDF
Audio and Guitar Pro files w/TAB included.
A $5 off coupon for my new book.
Sor Study in B minor video
The great classical guitarist Julian Bream has often said this Sor study in B minor was the first piece he mastered as young man in England. I thought it would be fitting to include him playing this as a very old man around 2006. In this beautiful performance, Bream is playing a 1940 Herman Hauser guitar made at around the same time Segovia published his famous 20 Studies book.
Below is Sor's Study in B minor in standard notation.
Click this link for Sor's Study in B minor with TAB PDF
Craig Smith is a professional Guitarist, Teacher, and Writer living in Sanford, Florida. Craig has taught guitar lessons, performed 200+ gigs per year for nearly 30 years, and published 4 guitar instructional books. When he's not gigging or writing, you may find him by the pool with his wife Celeste, 4 Chihuahuas, and a drink. 🎸